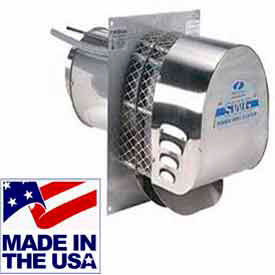 Power Venters
Field Controls Power Venters Are Used For Use on All LP Gas, Natural Gas Or Oil Fired Heating Equipment.
Field Controls Power Venters are made of galvanized or stainless steel for long lasting durability. Features a
compact design that combines the motor, blower and vent hood into one complete unit for superior performance
. Mounts on the outside of building and pulls combustion gases from the appliance through outside wall utilizing 100 percent negative pressure for greater reliability. No need to seal vent pipe joints for easy installation. Must be sized to match the appliance input firing rate and installed with a CK control kit to ensure proper listing and safe, efficient venting. Diameters are
3, 4, 5, 6, 8, 10, 12 or 14 inch
. Voltage, watts, RPM and BTU capacities vary per model.
Click to View
Draft Inducers
Click To View
Power Venter Contol Kits
Click To View
Combustion Air Systems