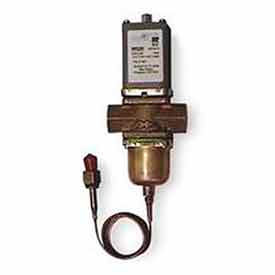 Water Regulating Valves
Water Regulating Valves Are Used For Regulating Water Flow For Condensers On Refrigeration Systems.

Water Regulating Valves are available in several varieties to suit specific water flow needs. Pressure Acutated Water Regulating Valves correct refrigerant head pressures with a 3-way valve that senses the compressor head pressure and allows cooling water to flow to the condenser , bypass the condenser or flow to both the condenser and bypass line. Reverse Acting Valves open on a refrigerant pressure decrease, and are generally used in parallel with a direct acting valve for heat pump applications or bypass operation. Three-Way Water Regulating Valves allow water flow to towers through bypass line, even though the condenser does not require cooling. This ensures an adequate head of water at the tower at all times, allowing efficient operation with minimal maintenance. Available for a variety of different pipe sizes.