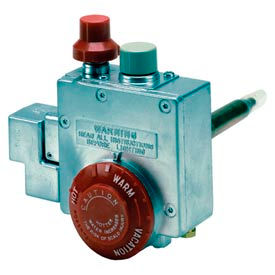 Water Heater Thermostats
"Water Heater Thermostats Are Used For Commercial, Domestic And Recreational Vehicle Applications.

Water Heater Thermostats are solidly manufactured for long lasting durability and dependability. Feature built-in, non-cycling energy cut-off systems in case of excessive water temperatures. Robertshaw and White-Rodgers™ brand models include 5-1/2 inch sensing element and vary by inlet/outlet size, shank length, regulator type and setting. Domestic and RV models have a 160°F temperature high stop. Commercial models have a 180°F high stop.

"