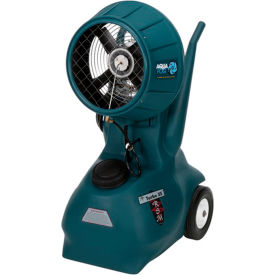 Airmaster Fan Misting & Fogging Fans
Airmaster Fan Misting and Fogging Fans Are Suitable For Indoor and Outdoor Environments.

Airmaster fan misting and fogging fans provide relief for industrial areas with excessive dust, humidity, or dryness. Units feature fog production for evaporative cooling. Select models include impact resistant polyethylene coating and large molded wheels for steering over difficult surfaces. Available Motor Types are Totally Enclosed Explosion Proof, Totally Enclosed Fan Cooled, and Totally Enclosed Washdown Rated. Gallons per hour range from 2 – 32 depending on the model. CFM and additional specifications vary per model.