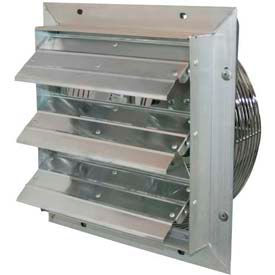 J&D ES Shutter Exhaust Fans
J&D ES Shutter Exhaust Fans Remove Excess Moisture, Odor and Fumes for Warehouses, Greenhouses, Barns, and more.

J&D ES Shutter Exhaust Fans are made with a three-bladed aluminum prop with a zinc-plated steel hub. Features chrome guard for easy cleaning. Totally-enclosed direct drive high-efficiency motors have completely sealed ball bearings. High-efficiency aluminum shutters with tie bar eliminate shutter flapping on windy days. Fans come fully assembled. Power cord included with some models. Available fan diameters are 10, 12, 16, 20, 24, and 30 inches.Mount Types Available are either Indoor or Indoor / Outdoor.