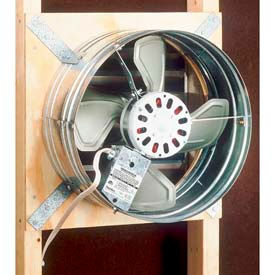 Attic & Bathroom Ventilators
Attic and Bathroom Ventilators Are Designed For Both Indoor and Outdoor Use.

Attic and Bathroom Ventilators are designed for attic and bathroom applications. The Gable Mount Powered Attic Ventilator removes superheated attic air to cool the house and lower air conditioning costs. Provides quiet, high-performance operation for inside-the-attic application and features a galvanized steel housing that is ribbed for added strength. Mounting brackets simplify installation. Broan® Roof Mounted Powered Attic Ventilator has a precision balanced, 14" metal blade for maximum airflow with minimal sound levels. A 23 gage metal flashing allows for nailing and hot tar application. Features a thermally protected, permanently lubricated motor, a mesh bird screen and a protective dome. Choose from domes made with brown powder coat paint, black pvc or heavy gauge aluminum. Sizes and CFM ratings vary. The Energy Star Bathroom Ceiling Mount Fan provides high performance in a quiet, compact package. Fans are made of steel and are Energy Star qualified. Features an efficient 26 watt bulb and is 68 CFM at 0.25" static pressure. Has a white finish with a white opal, glass globe. Hanger bars are included for easy installation. Fits in 2" X 6" ceiling construction.