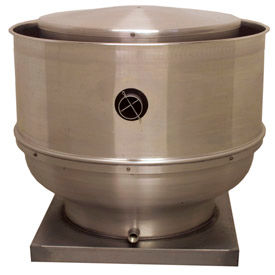 Upblast Roof Ventilators
Upblast Roof Ventilators Provide Air Ventilation and Circulation For Applications Including Residential, Commercial, Industrial and more.

Upblast Roof Ventilators remove contaminated and high temperature air from processes, buildings and more. Each unit is constructed of aluminum and steel for long lasting durability and dependability. Enclosed ventilated motor/drive compartment isolates motor and operates from exhaust air. Water-tight conduit tube allows electrical connection without required breather tube. Statically balanced and backward inclined for quiet and safe operation. Includes removable motor compartment for maintenance ease. Features external weather proof disconnect. Drive types areDirect and Belt Drive. Phases are 1 and 3. HPs range from 1/25 to 3. Color finish is Silver. Dimensions vary per model.