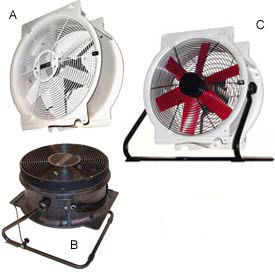 Moisture Resistant Outdoor Fans
Indoor Outdoor Fans Are Used For A Wide Variety Of Industrial and Commercial Applications Including Warehouses, Factories, Greenhouses, Kitchens, Offices, Golf Courses, Athletic Events And Carpet Drying.

Indoor Outdoor Fans are constructed with a high impact polypropylene housing with wire guards for safety and long lasting durability. Motors totally enclosed for safety. Includes 3 metal fan blades. Dolly mounted fan includes tubular steel base with 2 axle-mounted wheels for easy mobility. Inflator fan designed for use with most inflatable promotional tubes. Greenhouse fan and portable high moisture fan used for heavy duty, high moisture laden ventilation and circulation. Types are 3 Dolly Mounted Fan, Mobile Greenhouse Fan, Mobile Inflator Fan, Portable High Moisture Application Fan and Portable Indoor/Outdoor. Color finishes are Blue, Gray/Black/Silver, Silver and Silver/Black. Available in a variety of HPs, CFM highs and RPMs. Warranties and certifications vary per type.