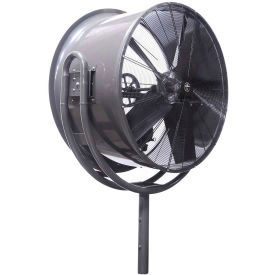 Jetaire® High Velocity Fans
Jetaire® High Velocity Fans Provide Powerful Air Cooling and Circulation for Warehouses, Commercial Properties, Athletic Areas, and more.

These high velocity fans are designed to move a large concentration of air with a tilt head for precise, directional air movement. The steel, aluminum, and polypropylene construction is strong and durable ensuring years of reliability in harsh working conditions. Mounting options include pedestal base, vertical mounting bracket for ceiling attachments (safety cable included), horizontal mounting bracket for column mounts, and 6' and 10' poles for permanent concrete placement. Includes a 460-volt, three phase totally enclosed direct drive 1/2 HP motor. Optional misting kits available for all models. Available in Non-Oscillating and Oscillating. Phases are 1 and 3. Color is Bronze, Hunter Green, and Industrial Gray. Dimensions vary per model.