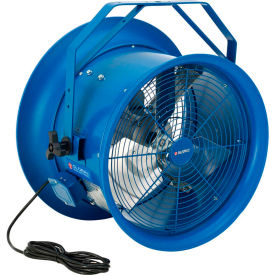 High Velocity Air Circulators
High Velocity Air Circulators Allow Convenient Cooling and Air Flow For Multiple Working Environments.
These circulators are built for performance, superior distance of air throw and long lasting durability. Sizes are
14", 18", 22", 24" 26", 30" and 34".
Volts range from
115 - 480
depending on the model. 1 and 3 phase air circulators available. CFMs range from
2600 - 17000
depending on the model. Select models allow adjustable settings at 15° variations. Additional specifications vary per model.
Key Attributes of Most Models in the HV Series:
Direct Drive, Maintenance-Free Motor with Sealed Bearings (Totally Enclosed)
Side-Vented Barrel Design Promotes Optimum Air Flow
Fan Blades Engineered for Maximum Air Velocity and Efficiently Smooth Operation
Powder Coated, Corrosion Resistant OSHA Compliant Recessed Finger Guards
Deep Venturi Inlet/ Outlet Design of Barrel Creates Even Column of Non-disturbed Air Flow