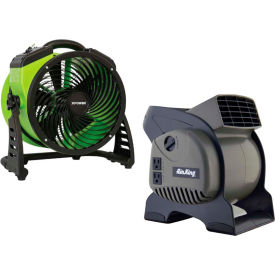 Pivoting Utility Blowers
Pivoting Utility Blowers can be used in Shops, Offices, Homes, and other locations that need High Volume Air Circulation.

Pivoting Utility Blowers user to control the direction of the airflow. Molded ABS plastic housing provides durability for repeated use. Blowers offer 3-speed operation. Lightweight blowers include built-in carry handle for easy lifting. Impact resistant grills provide safety. Most models feature circuit breaker with reset button. Available AMPs range from 0.6 - 2.8 depending on the model. Widths are 9-1/4", 9-13/16", 12", 14-1/4", 15-7/16", 16", 16/1/8", and 19-1/4". Heights are 8-7/8", 9-7/16", 10", 11-1/4", 17-1/2", 18", and 22-1/2". Utility blowers feature two 115V or 120V grounded outlets. 1 or 5 Year Limited Warranty depending on the model. Additional specifications vary per model.