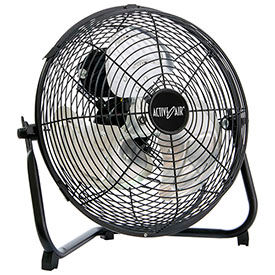 Active Air Floor Fans
Active Air Floor Fans Provide High-Performance Circulation for Workstations, Workshops, Grow Rooms, and more.

Active Air Floor Fans offer continuous and optimal breeze comfort at level surfaces. Strong motor permits uninterrupted operation. Aluminum casted blades allow recirculating lower-lying CO2 in grow rooms for entire plant canopy nurturing coverage. Pivoting fan angle adjustment allows for versatile air spreading options. Maximum high speed capacity is 1350 RPM. Dimensions vary per model.