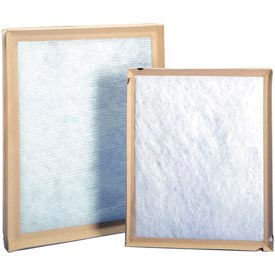 Purolator® Disposable Synthetic Filters
Purolator® Disposable Synthetic Filters Are Used For Residential, Commercial And Light Industrial Use.

Purolator® Disposable Synthetic Filters are made with a polyester media for efficiency and long lasting durability. Used for situations where synthetic media products are required. Frame made using post consumer materials. Pinch frame interior clinches fiberglass media into place to eliminate weak corners and air bypass. Notched exterior frame allows easy installation. Monobond one-piece frame sealed to media under heat and pressure. High tensile strength binder increases seal integrity and withstands varying temperatures and humidity levels. Synthetic media made of polyester filters bonded in an interlocking pattern of tiny lint and dust traps. Class 2 UL listed. Available in a variety of sizes. Package quantity is 12.