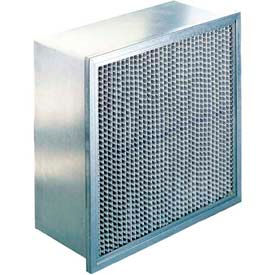 Koch Filter™ Multi-Cell Rigid Air Filters
Koch Filter™ Multi-Cell™ Rigid Air Filters Are Used For Hospitals, Manufacturing Plants, Automotive Plants, Office Buildings, Universities, Pharmaceutical Laboratories And Other Commercial And Industrial Applications With Variable Air Volume.

Koch Filter™ Multi-Cell Rigid Air Filters are made of glass fiber media enclosed with durable Particle Board or Galvanized Steel frames for long lasting reliability. Feature corrogated aluminum separators and secure media-to-frame sealant. Designed for systems with variable-air-volume applications where changes in airflow might render a non-rigid filter ineffective. Offered in multiple frame and header options. MERV 11, 13 and 14 7 rated filters are available in 6 or 12 inch depths, 12, 20, 24, 25 and 30 inch widths and 12, 16, 18, 24 and 30 inch heights.