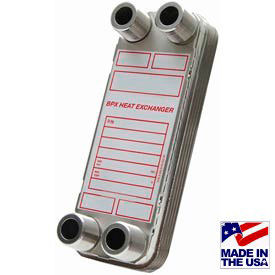 High Pressure Brazed Plate Heat Exchangers
Brazed Plate Heat Exchangers Are Used For Industrial Applications And Offer The Highest Level Of Thermal Efficiency And Durability In A Compact, Low Cost Unit.

The corrugated plate design provides very high heat transfer coefficients, resulting in a more compact design. The units stainless steel plates are vacuum brazed together to form a durable, integral piece that can withstand high pressure and temperature. ASME certified.