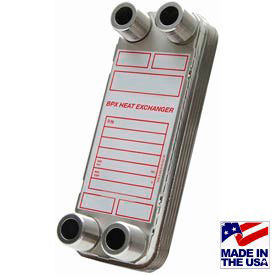 High Pressure Brazed Plate Heat Exchangers With Mounting Tabs
Hydronic Brazed Plate Heat Exchangers Are Used For Residential & Light Commercial Applications Using A Unique Mounting System And A High Level Of Thermal Efficiency In A Compact, Low Cost Unit.

The unique integral mounting tabs and connection locations allow for easy installation to any hydronic heating panel without the need or cost of a separate mounting bracket. Used for a wide variety of hydronic applications including domestic water heating, pool heating, radiant floors and snow melt systems. Stainless steel plates are vacuum-brazed together to form a durable, integral piece that can withstand high pressure and temperature.