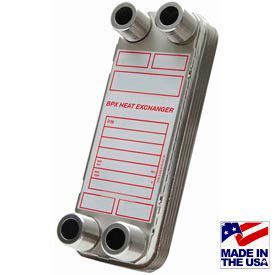 Low Pressure Brazed Plate Heat Exchangers
Low Pressure Heat Exchangers Are Smaller, Lighter, Stronger And More Efficient Than Standard Exchangers.

Bell & Gossett brazed plate heat exchangers are used for residential and light commercial Hydronic systems because they provide maximum heat dissipation. Unlike conventional shell and tube heat exchangers, these units can be used even in applications where space is at a premium. Efficient design allows heat transfer using less space, making them well suited to a variety of installations, including: domestic hot water, pool heating, radiant floors and snow melt. Stainless steel plates are vacuum-brazed together to form a durable, integral piece that can withstand high pressure and temperature.