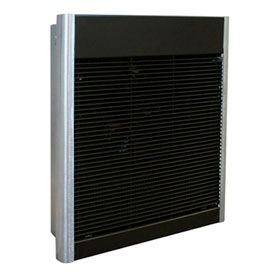 Architectural Wall Heaters
Architectural Wall Heaters Are Used In Motels, Entryways, Stores, Public Restrooms, Warehouses And Other Large, Hard to Heat Areas.

Architectural Wall Heaters are made with 16-gauge steel bar grille front cover mounts on a steel back box for lasting durability in industrial and commercial applications. Heaters can be surface or recess mounted. The heating element is of the non-glowing design with steel plate fins brazed to the steel element sheath for safety and efficiency. The fan motor is totally enclosed and operates through a fan delay switch which does not allow the fan to come on until the element has reached operating temperature. A built-in tamper-resistant thermostat controls the temperature in the space. Manual-reset thermal cutout is designed to shut heater off in the event of overheating. The unit will not re-energize until the reset button is activated. Heater includes front cover, fan panel with the motor, element and controls mounted to it, and the back box. No additional items are needed for operation. Phase 3 units have permanently lubricated totally enclosed fan motor provides long life and low maintenance to distribute warmth throughout area. Kilowatts are 30 and 48. 480 volts. Amps, BTU highs and wire size vary per model.