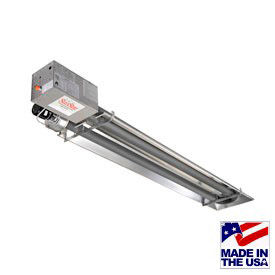 SunStar Gas Infrared Garage Heaters U-Tube Compact
U-Tube Infrared Heaters Heat Up To 5,000 Sq. Ft.
Great for hard-to-heat spaces including garages, entryways, greenhouses, workshops, farm buildings, and more! Utilizes a heavy duty heat exchanger for efficient, radiant heat. Infrared tube heaters help reduce fuel bills up to 50%. Aluminum reflectors with 97% reflectivity rating. Vacuum system eliminates combustion gas leaking into the heated space. Reliable electronic direct spark, solid state ignition system offers 100% gas safety shut-off control and 30-second pre-purge. U-tube heaters offer uniform emitter tube temperatures and energy distribution on the floor. Features diaphragm safety switch for proof of venting and system indicator lights. Measures 110"L overall. Install 8'H above floor.120V supply required for ignition and control of the heater. CSA certified.
5 Year Limited Warranty.
To help pick out the heater that's right for you, click
here
to view the Heat Loss Estimating Chart.
Here
is a quick check list before ordering tube heaters.