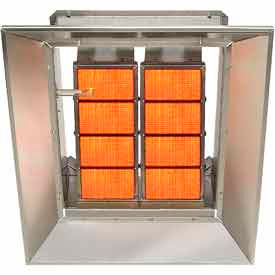 Infrared Gas Ceramic Heaters
Infrared Gas Ceramic Heaters Provide Spot Heating for Warehouses, Plants, Garages, and more.
Infrared gas ceramic heaters are made of aluminum and steel for long lasting durability. Heaters provide dimpled tile assembly for increased radiant efficiency. Energy efficient direct spark ignition system and gas shut-off safety control ensure optimum performance. Units mount horizontally or at an angle of up to 30°. Includes aluminum reflectors and protective radiant screen. Optional accessories include thermostats and chain kit. 120V supply required for ignition and control of the heater. Ignition types are
Direct Spark, Millivolt Standing Pilot, and Spark.
Fuel types are
Natural, Natural Gas, and Propane.
BTUs range from
22000 to 155000.
CSA certified. Dimensions vary per model.
**Note: Installation and service must be performed by a licensed contractor and must conform to local codes. In absence of local codes, installation must comply with National Fuel Gas Code ANSI X223.I (also known as NFPA 54) or CGA B149 installation codes.
To help pick out the heater that's right for you, click
here
to view the Heat Loss Estimating Chart.
Here
is a quick check list before ordering ceramic heaters.