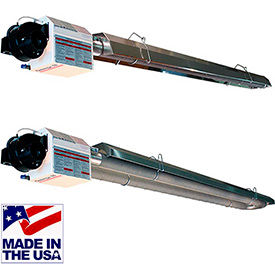 Omega II® Power Vented Gas Infrared Heaters
Omega II® Power Vented Gas Infrared Heaters Systems Straight & U-Configuration Commercial Industrial Heating systems Save 30-50% Energy over Conventional Heating Systems.

Omega II® Commercial Radiant Infrared Tube Heater systems are the original dry tube gas fired systems. The 40,000 to 200,000 BTU range power vented systems are available with either 3.5" or 4.0" OD Emitter tubes that run on either Propane or Natural Gas. Pre Engineered, gas fired, unitary power vented (also known as positive pressure or push through systems) available from 5 to 80 feet in length. Straight or U-Configuration systems available. Includes a powder coated aluminized steel burner. Standard bright finish aluminum reflectors, tube & reflector hangers and intermediate supports, heat treated aluminized steel radiant tubes, joint sealer, screws, turbulator, stainless steel flexible gas connector with manual gas valve (US Only) and two reflector end caps also included. Uses include aircraft hangers, large warehouses, animal confinement, oil & lube shops, auto dealerships, patio's, brooders, pole barns, bump shops, service garages, car & truck wash bays, shipping & receiving docks, commercial applications, steel warehousing, greenhouses, swimming pools, and more. Limited Warranty: Three Years on Ignition Controls & Electrical Components, 10 Year on Radiant Tubes – Refer to Owner's Manual for Details. Products need to be installed in accordance with local codes, laws and regulations and only by a HVAC contractor qualified in the installation and service of gas fired heating equipment. Hard-wired power that runs on 110 Voltage. CSA Certified. Made in the U.S.A.