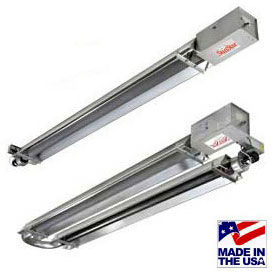 SunStar Pull Through Gas Infrared Heaters
SunStar Pull Through Gas Infrared Heaters Are Easy to Install and Provide Higher Radiant Efficiency. These heaters also provide venting flexibility and additional safety for use in maintenance shops, warehouses, aircraft hangars, and more.
The vacuum system in these heaters pulls products of combustion through the combustion chamber to increase the flame length and improve radiant heating efficiency. Tube heaters are energy efficient and an economical alternative for hard-to-heat spaces such as manufacturing plants, warehouses, hangars, loading docks, work-shops, fire stations, garages, and more. Versatile enough for spot heating to heating large buildings with up to a 50% reduction in fuel bills. Burner system includes inspection sight glass, diagnostic monitoring light system, and step-opening redundant combination gas valve for quiet ignition. Highly efficient aluminum reflectors can be individually rotated up to 45 degrees for convenience. Heavy duty cast iron burner with reliable direct spark ignition system offers 100% gas safety shut-off control and operational safety. Provides up to 50' outside combustion air capability and up to 75 sidewall vent capability. Available fuel types are
Propane and Natural Gas.
Tube lengths range from 15' - 50'. Available shapes are
Straight or U shape.
Use the Straight heaters for building space spot heating in high ceilings and entryways and the U Tube heaters for uniform energy distribution in larger high heat loss areas such as loading docks. Make sure to comply with the required minimum clearances to combustibles above and below the heaters and do not place heaters above stored materials. CSA certified and 5 year warranty on tubes. 120V supply required for ignition and control of the heater.
The clearances specified must be maintained to combustibles and other materials that may be damaged by temperatures 90°F above ambient temperature. Since straight tubes are always hotter at the burner end than the exhaust end, installers should always observe the minimum recommended heights shown on the specification sheets as well as the I&O Instructions. Install straight tubes as high as possible for even distribution.
Standard construction includes the first 10' of heat treated aluminized steel tube with all remaining tubes consisting of hot rolled steel tubing.
Tough Guy models
are made of all heat treated aluminized steel tubes for use in high humidity or corrosive environments as well as increased radiant output and durability.
To select the heater that's right for you, click
here
to view the Heat Loss Estimating Chart.
Here
is a quick check list before ordering tube heaters.