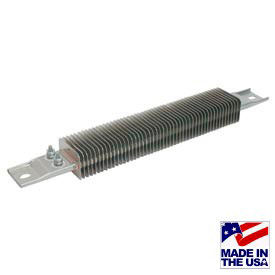 Tempco T3 Termination Finned Strip Heaters
Tempco T3 Termination Finned Strip Heaters Are Designed For Use In Forced And Natural Convection Air Heating Systems.

Tempco T3 Termination Finned Strip Heaters are housed in stainless steel tubing with a nickel plated steel fin for lasting durability and dependability. Used for both forced (duct mounted) and natural convection air heating (mounted at bottom of cabinet type ovens). Designed with helically wound resistance coil placed in ceramic insulator. Resistance coil mechanically connected to screw terminal for positive connection. Voids filled with high purity magnesium oxide increasing thermal conductivity and dielectric strength. Fins provide maximum surface contact for good heat dissipation into finned cross sections allowing rapid heat transfer to air. Available in a variety of lengths from 10-1/2 in. to 48 in.. Mounting dimensions vary from 9-1/2 in. to 47 in.. Voltages are 120 and 240. Color finish is Stainless. Package quantity is 1.