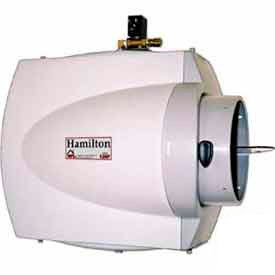 Hamilton Home Furnace Mount Whole House Humidifiers
Whole House Furnace Mount Humidifiers Ensure The Proper Amount Of Humidity In Your Home To Promote A Healthy And Comfortable Environment.

During the winter months, when your furnace is heating your home, the humidity level can drop substantially making for an uncomfortable home environment for your family and pets. Plus, the lack of moisture can irritate allergies, sinuses and respiratory problems and dry out your skin. Installing a Hamilton whole house furnace mount humidifier is a great way to deliver humidity to the entire home versus room and console units. Designed for easy installation. 12HF is used for homes up to 3,000 sq. ft. Uses up to 80% less water than other brands of "flow-thru" humidifiers. Mounts on plenum or return air duct. Electronic plenum controller and plug-in transformer simplifies installation. Floor drain is required. Limited Lifetime Warranty.