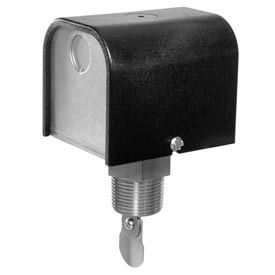 Liquid Flow Switches
Liquid Flow Switches Are Used For Heavy Duty Applications Such As Water Treatment Systems, Cooling Systems For Electronic Circuits, Compressors, Booster Pumps And More.

Liquid Flow Switches are used for instant switching. In-line configuration eliminates need for pipe tee. Very high flow capacity actuates at extremely low flow rate. Single pole, double throw snap switch provides optimal performance. Switch compartment is completely sealed to protect from liquid. Sensitivity adjusting screw provides easy flow adjustment. Minimum temperature is 32°F (0°C); Maximum temperature 225°F (107°C). Available NPT sizes in inches are 1 or 1-1/4. One Year Limited Warranty.