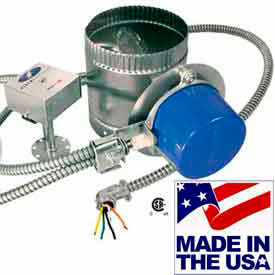 Field Oil Vent Damper
Field Controls Oil Vent Dampers Are Used For Controlling Flow Of Heated Or Conditioned Air.

Field Controls Oil Vent Dampers are made of corrosion resistant stainless steel for long lasting durability. Features a 7 foot wiring harness with prewired WMO-1 blocked vent safety switch to reduce heat loss for greater efficiency. Automatic power open/power close for added versatility. Two internal safety switches for enhanced protection. Flex seal provides self-cleaning action and hold-open service switch for ease of use. CSA listed(listed to UL-17 Standard and CSA B140.14). Diameters are 4, 5, 6, 7 or 8 inch.