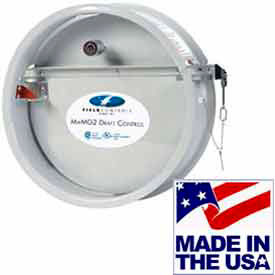 Solid/Oil/Gas Fuels Draft Controls Commercial/Industrial
Field Controls Oil/Gas/Wood/Coal Draft Controls Are Used For Use On Commercial Or Industrial Furnaces And Boilers.

Field Controls Oil-Gas-Wood-Coal Draft Controls are solidly manufactured for long lasting durability. Features an MGI that provides precise control of drafts at higher levels than permitted by standard draft diverters for greater reliability. Double acting design allows for opening out to relieve positive vent system pressures as low as .01 inch for superior performance. Recommended for use on gas atmospheric appliances where a draft hood cannot be installed. Can improve combustion stability and draft on many gas atmospheric installations with venting problems for increased versatility. Control sizes are 10, 12, 14, 16, 18, 20, 24 or 28 inch. Collar gauges are 14, 18, 20, 22 or 24. Gate gauges are 14, 16 or 18. Ring gauges are 16, 18 or 20. Dimensions and nominal capacities vary per model.