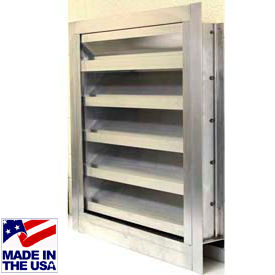 Combination Louver Dampers
Combination Louver Dampers Are Designed For Superior Weather Protection.

Combination Louver Dampers have an extruded aluminum construction for long lasting durability and dependability. Used for intake or exhaust in industrial and commercial applications. The channel frame is 4 in. deep with a 1-1/2 in. flange and drainable, 45 degree, fixed blades. A second set of adjustable blades (with seals) sits behind the first and can be closed for tight shutoff. Adjustable blades are easily operated by a thumbscrew. Comes standard with a Birdscreen on the back for added safety. Designed for vertical mounting. Dimensions vary per model. 1 Year Limited Warranty.