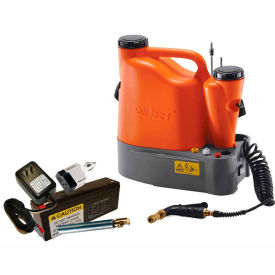 Speedclean HVAC Cleaning Equipment
Speedclean HVAC Cleaning Equipment Provides a Range of Tools for Cleaning and Maintaining Industrial And Commercial HVAC Units.

HVAC Cleaning Equipment is made of materials including polypropylene, zinc plated steel, ABS and more to provide long lasting durability. Portable cleaning solutions include Industrial Descaler Systems, Coil Cleaner Systems, Tube Cleaners and more. Spray wands (optional) provide additional range and flexibility for hard-to-reach areas. Other kit components include flexible shafts, brushes, expansion valve, coil cleaner concentrate, pH testing roll and more. Tool PSIs are available in 30, 125, and 400 gallons per minute are 0.6 or 2.5. Other dimensions vary per accessory.