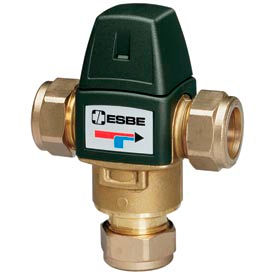 ESBE SERIES THERMOSTATIC MIXING VALVES
Compact Thermostatic Mixing Valves Are Designed For Hot Water Heating Systems And Domestic Hot Water Distribution Systems For Multiple Fixtures.

Thermostatic mixing valves feature an anti-scald function that reduces hot water flow to 0.5 GPM whenever mixed water temperature exceeds setting by 18°F due to cold-water supply failure. Angle flow pattern makes installation easy. Designed for mixing purposes. Mixing valves offer quiet operation with a compact, lightweight design. Snap-on cover offers dirt protection and prevents unauthorized adjustment or tampering. Provides a maximum working pressure of 150 psi and 44 psi maximum system differential pressure. Maximum hot water inlet temperature of 194°F. Meets ASSE-1017 standard.