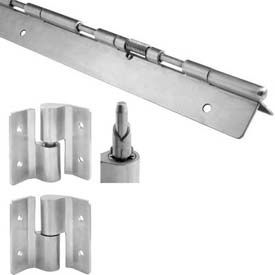 Bathroom Partition Hinges
Bathroom Partition Hinges Allow Smooth, Easy Opening and Closing Of Bathroom Stall Doors.

Bathroom partition hinges are forged from stainless steel, brass and aluminum for lasting durability. Styles include: Bottom Pivot Hinge, Hinge Pin, Hinge Repair Parts, Integral Hinge Set, Piano Hinge, Pivot Hinge, Surface Mount Hinge, Top Pivot Hinge and Wrap Around Hinge. The Square Barrel Hinge Set, RH-In/LH-Out are sold individually for use with Accurate, All American, Ampco, American Sanitary, Bobrick, Fiat, Flush Metal, Global, General, Metpar and Mills Manufacturers. The Piano Hinge, RH/LH, Cam Close/Zero Open is made from continuous 14 gauge stamped stainless steel with 1/4 inch pin and may be used with all manufacturers. Other materials available are Nylon, Plastic and Zamak. Sizes include: 3/4", 1" and 1-1/4".