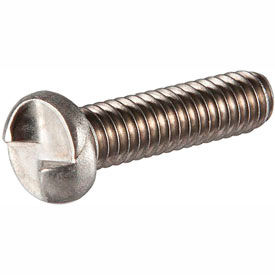 Tamper-Proof Security Machine Screws
Tamper-Proof Security Machine Screws Accommodate Fastening Operations For Workshops, Warehouses, and more.
Tamper-Proof Security Machine Screws provide an added level of security with a drive design that prevents removal with ordinary screw drivers. Maximum torque transfer and positive tool engagement means easier drive installation with less pressure & slippage. Offers a high degree of security & requires matching driver bit.
Button Head screws are typically used for general purposes with a lower crown & shallower recess than round head screws.
Flat Head screws install flush with metal surfaces or countersinks with softer materials for a clean appearance.
Oval Head screws are used where countersink installation is desired.
Pan Head screws are low profile with a large diameter and high-edged crown for increased strength.
Round Head screws are widely used for general purposes, featuring a high crown with a deep recess and smaller diameter head than truss or pan heads.
Truss Head screws are low profile and offer added security against vice-grip removal. They typically have large diameter heads for increased fastening strength.