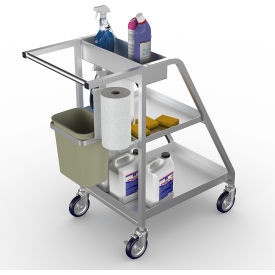 Aluminum Sanitation Cleaning Cart
Aluminum Sanitation Cleaning Carts Provide Mobile Cleaning Stations For Tables, Counters, Hand Rails, and Other Frequently Touched Surfaces.

Portable Sanitation carts provide all-in-one cleaning storage station that can be also be used to Holds cleaning and sanitizing items in high volume to clean any touch point areas around any facility. Lightweight aluminum construction and small foot print design makes this cart easy to maneuver and ideal for all areas of your facility. Dimensions and additional specifications vary per model.