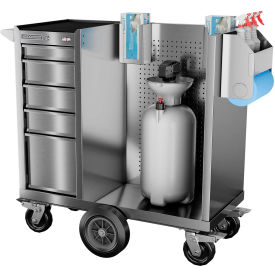 Industrial Sanitization Carts
Champion FM Pro Industrial Mobile Sanitization Carts

Designed to handle all of your sanitization needs in an industrial and commercial setting both indoors and outdoors. These units are made to handle demanding environments and are built to last. With the Maintenance Cart base, traveling distances effortlessly, moving over uneven surfaces, 360 degree rotation in tight spots, entering and leaving elevators is made easy. Proudly made in the USA, the FM PRO Series is also built to withstand the harsh conditions of the job site and to protect and clean the tools you use every day. Units are constructed with thick gauge welded steel housings, drawers, steel ball-bearing drawer slides and finished with a durable powder coat or stainless steel. Built-in features for PPE storage and dispensing made easy with full width and deep drawers for a wide range of critical supply storage. Limited lifetime warranty protects against defects.