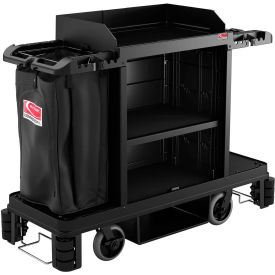 Suncast Housekeeping Carts
Standard Housekeeping Cart

Suncast Commercial StandardHousekeepingCartfeatures a single non-marring roller in all four corners as well as brakes on the casters to hold thecartin place. Thecartcomes standard with one laundry bag, 2 vacuum holders,as well asa traditional glass rack and integrated cleaning tool storage for cleaning supplies.Maximize storage capacity with optional accessories, such asa smart caddy design that nests over the laundry bags to allow for optimal top space workflow.

Premium Housekeeping Cart

Suncast Commercial PremiumHousekeepingCartfeatures a 360 degree adjustable caster system as well as three non-marring rollers at all four corners designed to engage wall moldings.Thecartmaximizes storage with accessories including a smart caddy design, as the maid caddy's nest over the laundry bags allowing for maximum top space workflow.