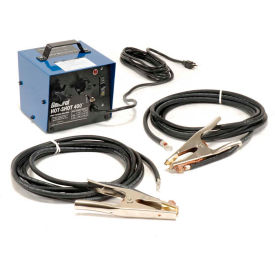 Pipe Thawing Machines
Pipe Thawing Machines Are Used For Safe And Easy Thawing Of Frozen Pipes.

Pipe Thawing Machines are solidly manufactured for long lasting dependability. Saves time and money by eliminating the need to tear up floor, break through walls and digging up pipes in frozen ground. No need for hazardous blow torches. Simply attach the pipe clamps and plug it in to unfreeze pipes in minutes. Thaws 1-1/2" diameter lines. Offers thermal overload protection and circuit breakers. 115V. Available in 300, 320, and 300/400 amp unit.General Pipe Hot-Shot offers a 2 Year Limited Warranty. RIDGID® offers a Lifetime Warranty.