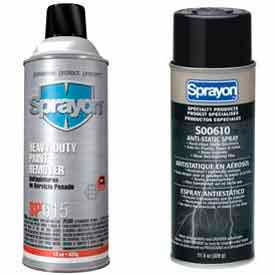 Chain and Cable & Specialty Lubricants
Chain and Cable and Specialty Lubricants Are Designed For Sprayable Brake and Part Cleaning, Air Refreshing, Mold Release, and more.

Chain and cable and specialty lubricants provide biodegradable industrial strength formulas for engines, brakes, parts, and more. Anti-Static Spray neutralizes static electricity generated by friction or atmospheric conditions. Vinyl Strippable Protective Coating protects nonporous surfaces against abrasion, scratches, moisture, rust, and corrosion during shipping and storage. Available Lubricant Types are Belt Dressing, Grommet Lube, and more. Package quantities and additional specifications vary per model.