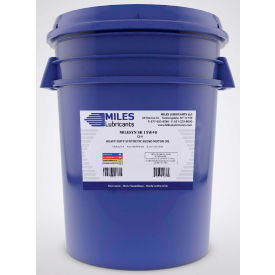 Synthetic Diesel Engine Oils
Synthetic Diesel Engine Oils are Superior Lubricants To Meet Warranty Requirements of most Diesel and Gasoline Engines.
Synthetic Diesel Engine CJ-4 oils have additive chemistry to retain TBN levels for longer periods of use. Specifically designed for high performance, low emission diesel engines using ERG, and Diesel particulate filters. This lubricant ensures superior engine protection for heavy-duty diesel engines requiring the latest API CJ-4/SN specification. Viscosity grades are 15W-40. Available in 5 - 55 gallon drums or pails.
Exceptional overall engine protection
Excellent cold temperature properties
Outstanding soot control
Extreme protection against oil thickening
Protects against rust, wear, and bearing corrosion
Excellent protection against sludge and varnish formation
Resistant to viscosity and thermal breakdown at high temperatures