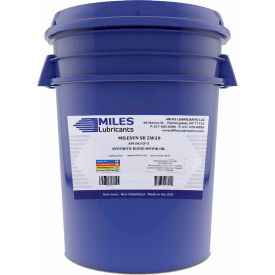 Synthetic Engine Oils
Synthetic Engine Oils are made by General Motors to meet Global Engine Oil Specifications.
Synthetic Engine Oils use synthetic base oils and advanced additive technology to exceed the requirements of the General Motors specification. This premium quality motor oil will also meet demanding lubrication requirements for aspirated, turbo-charged, and super-charged gasoline fueled engines. Excellent oxidation stability, increases wear protection, works with low temperature flow properties, reduces oil consumption, and enhances overall fuel economy. Viscosity grades vary. Available in 5 - 55 gallon drums or pails.
Meets or exceeds API SN and ILSAC GF-5 specifications as well as all previous service classifications API SM, SL and ILSAC GF-4 and GF-3 License No. D10023GB141
Formulated for superior engine protection
Extremely low volatility
Excellent Oxidation Stability
Protects against sludge and varnish
Highly resistant to foaming and corrosion
Improves oil film strength and breakdown resistance