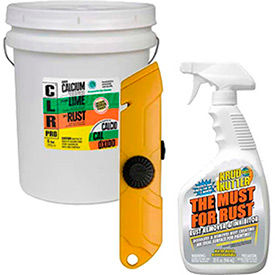 Rust Removers, Corrosion Inhibitors & Galvanizing Compounds
Rust Removers and Corrosion Inhibitors and Galvanizing Compounds Help Clean, Protect and Lubricate.

Rust removers, corrosion inhibitors and galvanizing compounds penetrate rusted tools, gears, and equipment to restore appearance. Lubricant models are suitable for preventing future rust and corrosion with an inhibitor or a galvanizing compound. Lubricant types include Anti-Corrosion Gel, Cold Galvanize 95, Dry Graphite Lube, and more. Container types and additional specifications vary per model.