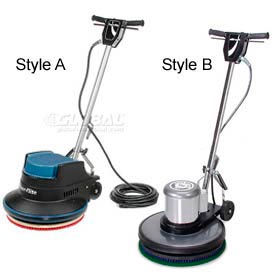 Powr-Flite® Floor Machine
These Versatile And Hard Working Floor Machines Provide All The Power You Need For All Floor Maintenance Jobs! Stripping, Scrubbing, Scraping, Grinding, Shampooing, Bonnet Cleaning, All In One Floor Care Machine!
PowrFlite floor cleaning machines have a 1.5 HP motor that offers 175 RPM (Rotations Per Minute) pad speed. Floor machines feature a safety lock-out on handle with easy access thumb action control. Features include
heavy duty all-steel triple planetary transmission, 5 non-marring wheels, an on-board pad driver and a 50''L power cord.
Style A
feature durable rotational molded one-piece housing that absorbs vibration and controls torque for easy operator control.
Style B
has a durable, heavy weight all-metal base that is long lasting.
Click here to see full selections of our
Floor Care Machines.