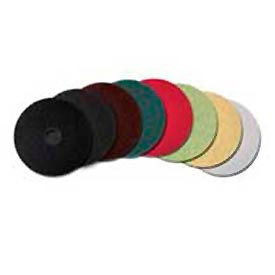 3M™ Low and High Speed Floor Pads
3M™ Low and High Speed Floor Pads Provide Uniform Distribution of Mineral Abrasives For Superior Performance.
3M™ low and high speed floor pads are individually separated and coated fibers to help produce consistent results. Low speed floor pads work best between 175-600 RPM using rotary or automatic floor machines. Pad types include
Buffing, Burnishing, Cleaning, Eraser Burnishing, Polishing , Scrubbing, and Stripping.
Pads are color coded.
Buffing: Cleans when damp; buffs when dry. Quickly cleans and removes scuff marks and enhances floor appearance. For light duty automatic floor scrubbers.
Burnisher: produces high gloss shine for soft finishes. Exceptional durability and life.
Eraser Burnishing: Removes black marks in fewer passes and retains excellent gloss and image clarity. Excellent durability. Minimal finish removal.
Cleaning: heavy-duty scrubbing prep prior to recoating. Removes dirt, spills and scuffs, leaving a clean surface. Can also be used for heavy-duty spray cleaning or foam scrubbing.
Polishing: for buffing very soft finishes or for polishing soft waxes on wood floors. Removes scuffs and black heel marks and enhances floor appearance.
Scrubbing: light scrubbing of floors with autoscrubber prior to burnishing. Excellent daily cleaning pad, minimal finish removal.
Stripping: Maintains consistent high performance throughout the life of the pad.
Sizes range from 10" - 28" x 14". Sold in package quantities of 5.