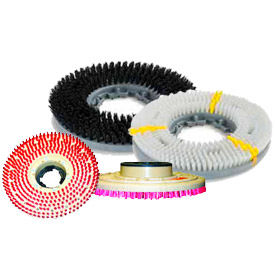 Rotary Brushes, Pad Drivers, & Clutch Plates
Rotary Brushes, Pad Drivers, and Clutch Plates Are Suitable For Household, Commercial, Industrial, or Institutional Applications.

Rotary brushes, pad drivers, and clutch plates are designed using high quality materials, are affordable and offer efficient cleaning performance. Outlast floor pads 100 to 1. More efficient than floor pads and are better for the environment. Available in 11" - 20" diameter and includes wear indicator. Irregular bristle lengths for optimal cleaning on uneven surfaces. Types and sizes vary by model. Dimensions vary per model.