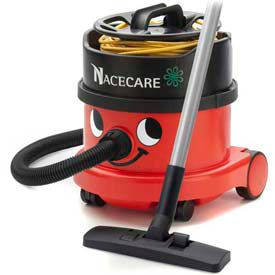 NaceCare™ Canister Vacuums
NaceCare™ Canister Vacuums Are Used For Commercial Cleaning Applications.

NaceCare™ Canister Vacuums are constructed of a polypropylene tank for long lasting durability. Powerful motor provides up to 110" water lift and 114 CFM of airflow for efficient soil recovery and longer carpet life. AUTOSAVE feature automatically starts the vacuum on low power reducing power consumption. Capable of 96% filtration at 0.3 microns. Easy to use cord wrap system stores the 33" power cord eliminating tangles. New plug cable system allows easy changing of power cord. Thermal overload for long term motor protection. Strong wheels provide mobility. Tank capacities are 2.5, 4 and 4.5. Colors are Green/Black and Red/Black. Available motor powers are 1.07 HP and 1.61 HP. 5-Year Limited Warranty on motor.