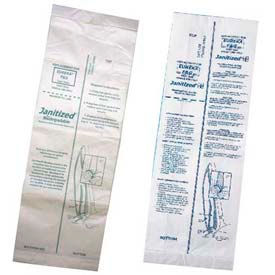 Hawk Replacement Vacuum Bags
Hawk Replacement Paper Vacuum Bags Are Used For Use With Hawk Upright Vacuums.

Hawk Replacement Paper Vacuum Bags are made for lasting durability and dependability. Choose from various selections designed for use with Hawk UV12 and UV16 Single Motor Upright vacuum. Biodegradable Vacuum Bag is the industry's first and only environmental solution to traditional vacuum cleaner bags. Developed to biodegrade when aerobically composted, reducing the amount of valuable resources entering landfills. Made of 4 Ply Cellulose from 100% renewable resources. Paper Vacuum Bags are designed to meet or exceed OEM standards. They are made of 1 Ply Paper and available in Single, 3-Pack or 10-Pack quantities. Also, 2 Ply Paper/Meltblown Mircro Filter bag is available for use on Hawk UVT14, UVT18, and Pursuit 14" and 18" models. One year Limited Warranty.