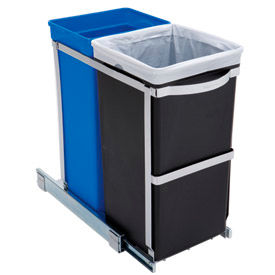 simplehuman® Pull Out & In-Cabinet Waste Cans
simplehuman® Waste Cans Hide Trash Neatly Out Of Sight Inside Cabinets.

Easy and convenient design is used for use in kitchen cabinets. Pull Out containers include a pre-assembled track that requires only 4 screws for installation. Ball bearing tracks glide out of the cabinet for smooth operation. Easy access handle. Extends 18" for full access and easy dish clearing. Includes mounting hardware. Available in standard and recycler trash cans.
In-Cabinet container hangs inside your kitchen cabinet door for quick and easy access. Held in place by a chromed steel frame that is strong and sturdy, yet allows for easy emptying. Lid is attached to the frame. 5 Year Limited Warranty.