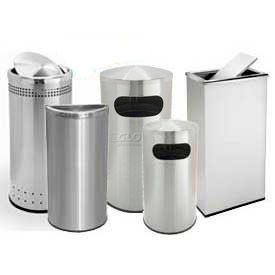 Precision Series® Steel Trash Cans
Precision Series® Steel Waste Containers Offer A Unique Style That Enhances Interior And Exterior Décor.

Great for retail environments, food courts, offices, restrooms and more! These trash receptacles are made with 304 grade stainless steel that is fire and corrosion resistant or powder coated steel. Receptacles are easy-to-clean providing a hygienic surface. Waste containers include galvanized steel or plastic liner for easy trash disposal. Equipped with rubber base ring that keeps unit in place and protects floors. Dome Top offers a large, wide mouth opening for disposal access. Swivel Top automatically closes to conceal waste and contain odors. Half Moon Containers are great for placement against walls. Recycle Cans include a set of decals to clearly identify your recycling needs.