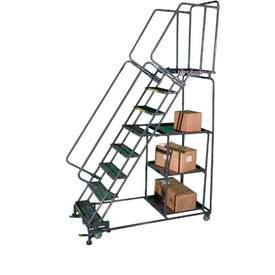 Multi-Purpose Stock Picking Ladder
Stock Picking Ladders Are Used Commerical Applications.

Stock Picking Ladders are made of steel with gray powder coated finish for long lasting durability. Rolling ladder with stock picking cart. OSHA and ANSI certified. Step quantities range from 6-12 steps. Step widths available in 16 in or 24 in. Step types are Perforated, Expanded, Serrated and Abrasive.