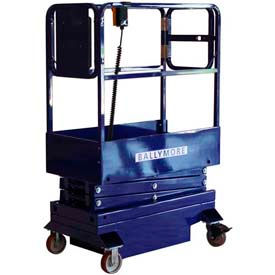 Ballymore Scissor Lifts
Ballymore Scissor Lifts Are Uniquely Designed For Use In Tight Access Areas In Warehouses, Factories, Stores And Stockrooms.

Ballymore Scissor Lifts are constructed with durable steel slim bases that enable associates to utilize the lift in areas with minimal space. Lifts are manually propelled but the small footprint and 6" casters make it easy to roll for long lasting use. Available in Drivable and Manually Propelled. Available weight capacities are 500 lbs, 550 lbs, 700 lbs and 1000 lbs. Maximum platform height ranges from 9'10" to 45'.