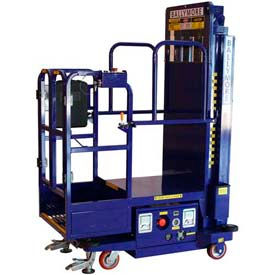 Pushable & Drivable Power Stock Pickers
Power Stock Pickers Eliminate Climbing Up and Down Ladders When Handling Heavy And Bulky Items.

Utilizes an ergonomic design, specifically the slide verse lift techniques. Platform raises to the desired height and the shelf allows a worker to slide the merchandise on and off. The Manually Propelled Power Stocker has a small footprint and rolls easily on 6" casters, while the Drivable Version has user friendly drive controls and moves in the down position and the raised height position.